The High Efficiency Mascot FT- (Fire Tube) Combination Boilers And Water Heaters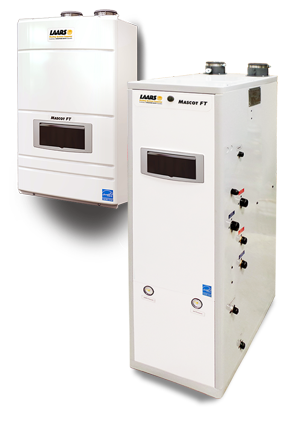 The Mascot FT is packed with intelligent features that satisfy the space heating and domestic hot water needs of the modern home. You'll enjoy the quick heating response, exceptional efficiency and years of reliable service that the Mascot FT delivers. Greatly reduce your home's heating cost when compared to older, low efficiency boilers! Available as a wall hung or floor standing 'Combi' model that provides both heating and domestic hot water, and as a wall hung 'Heating Only' model.
Mascot FT unique Combi models combine the best of tankless water heating and tank type water heating into one compact system. An integrated mini-indirect tank is always kept charged with hot water. When that hot water begins to be used by your faucet, shower, etc. the boiler fires and immediately begins to produce more hot water. The mini-indirect tank makes sure you have hot water quickly and the boiler makes sure you never run out of hot water for as long as you need it! The best of both worlds! Hot water fast and an endless supply – never run out again.
Mascot FT Features
Natural Gas & Propane Models
95% Efficient (AFUE)
Up to 10:1 Modulation
Vent up to 100 ft in PVC, CPVC & Polypropylene
Environmentally Friendly
Low NOx Emissions
Integrated DHW Indirect Tank
Superior DHW Performance on Combi Models